ClockGolf goes back to the 19th century, when it was widely played in the British castles and stately homes. ClockGolf came to Denmark when the park at the castle of "Gråsten" was established. Queen Ingrid of Denmark had a ClockGolf course built and is said to have played ClockGolf with her children as well as her grandchildren.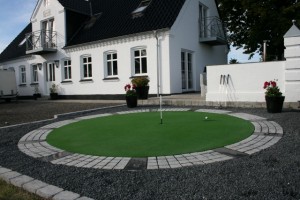 ClockGolf in the garden, or at your place of business…
ClockGolf is suitable for all situations. The decorative clock face of ClockGolf has been shaped in unique hand-hewn granite and can be adopted for any garden to look as a natural feature.
Furthermore, companies, hotels and golf clubs can also use the eye-catching and exclusive design of ClockGolf to make an impression.
Putting around the ClockGolf …
ClockGolf is a fun activity suitable for many different people, whether you want to have a fun and challenging singles game or be together with good friends and colleagues. ClockGolf can be played again and again by all age groups. ClockGolf is a unique opportunity to improve your short distance putting.
Most golf players – amateurs and professionals alike – know how difficult it is to put at a distance of 1-3 metres.
Use ClockGolf to ensure fewer strokes on the Green and thereby improve your handicap. Golfers and others quickly experience the joy of this relaxing and challenging game, which can be played throughout the year in your lunch time at work or in your garden on a beautiful summers night.